The Wedding of Hannah and Chris took place on the 31th August 2012 at The Chapel of Saint Mary's Undercroft. Sometimes as photographers you get access to some incredible places and this was one of those times.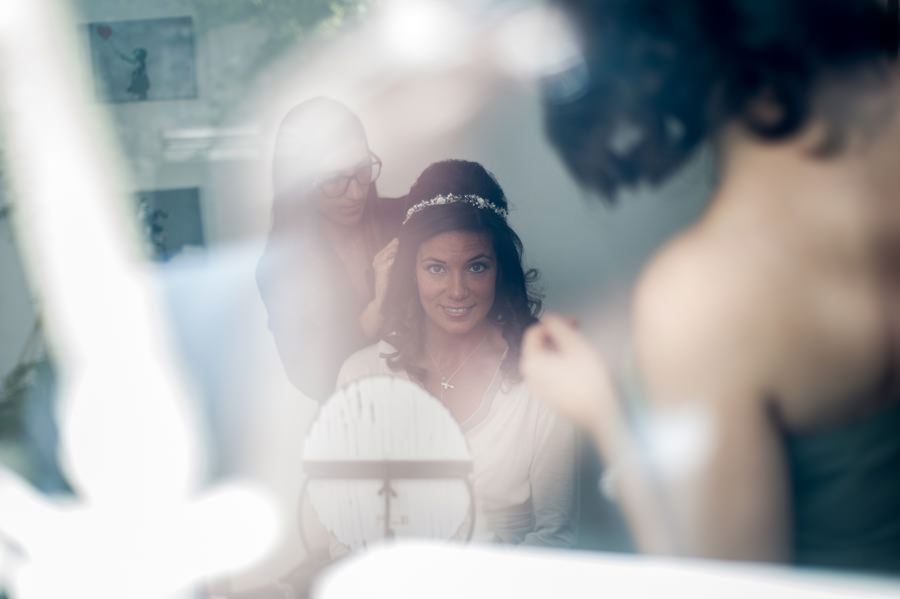 The day started for us at Hannah's house in Putney. Paul arrived at around 9.30am and for a change it only took him 15 minutes to arrive as he lives in South London. Romain went off to another part of Putney to look after Chris.
Hannah's house was buzzing with activity and all the bridesmaids were rushing around getting their hair and makeup done.
Romain at this point was gently nudging Chris into a photo shoot and capturing him as the nerves were slowly building.
Paul had managed to get some lovely shots of the morning and before we knew, it was time to leave for the church.
Obviously as the Wedding was in Westminster, we first had to pass some seriously tough security to get our kit through. Security past, we headed down into a wonderful old chapel in the bowels of Westminster.
They had a wonderful service, and we had just enough light to get some fantastic shots. It really was a privilege to be asked to photograph this day for them.
After the service the plan was to grab a boat to Richmond. Amazing idea and what a great way to have a reception. The weather held and music was supplied by a latin band, which provided some lovely tunes for a slow cruise down the Thames.
We arrived at the Bingham Hotel for dinner, Elvis and a pretty special evenings entertainment. If we can fit it in, we usually try and grab the Bride and Groom for a 15 minute photoshoot. Sometimes a little posed but hopefully more observational. It's just a chance to get something a little extra to remember your special day and considering the location we were in, it was a great opportunity to create a few special images.
Hannah and Chris are two lovely human beings and it was a great pleasure for us to be allowed to capture there day….Amazing family, wonderful friends and a perfect wedding.